RL360's TT racing pedigree
RL360 has been sponsoring the world famous Isle of Man TT Races since 2002.
As title sponsor of the RL360 TT Race, each year we invite key advisers to join us for a few days to experience the spectacle of racing on the Mountain Course, comprised of 37-miles plus of closed public roads.
Over the years RL360 has forged a very strong connection with the TT, not only on the sponsorship side. Our Finance and Commercial Director Mike Crellin even enjoyed a successful TT career, from which he retired in 2008.
No other motorsport event attracts people in great numbers for an entire period of two weeks except the world famous TT Races, where fans can revel in the Isle of Man's special mix of incredible racing and world class entertainment - and all set amongst the beautiful scenery of the Isle of Man.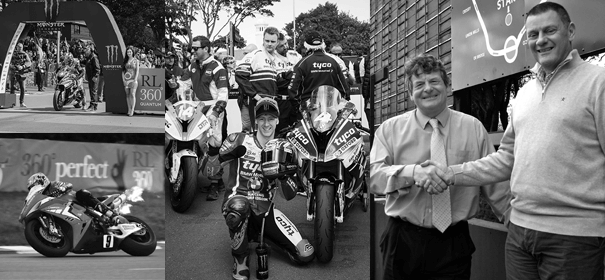 Right, RL360 Sales Director Simon Pack is pictured with Member of the Isle of Man's Legislative Council, David Cretney, as he signs another TT sponsorship deal.
Centre, Ian Hutchinson celebrates winning the 2017 RL360 Superstock TT Race for the 3rd year in a row.
Top left, The startline at the 2017 RL360 Superstock TT Race as eventual race winner Ian Hutchinson prepares to do battle.
Bottom left, 10-times TT race winner Ian Lougher scorches through Sulby.