Tim Kneale – RL360 Quantum Blog May 2016
Follow double-trap shooter Tim Kneale's blog as he talks competition, the run up to the Olympics and our RL360 Quantum sponsorship.
Rio World Cup Test Event
Before each Olympic Games the host venues hold an international test event to test facilities and highlight any potential issues before the main event. This was not only a dry run for the Olympic Shooting Ranges in Rio but also for me and the British Shooting Team. So far, this year had been about building progress and consolidating changes after the winter and the test event was an opportunity to get a feel for what will feature in August.
The British Olympic Association (BOA) have secured a number of training facilities in our holding camp pre games at a city called Bello Horizonte, an hour's flight north from Rio itself. We left London on the 7th and after an overnight stop at the Rio airport landed in Bello on the 8th. The shooting ground/country club was very nice with great training facilities where I and Steve Scott were head to head for 4 days of great training, mixed with some time off the range pistol shooting and fishing. A local government official was looking after our stay and offered up advice on where to eat and also sights to see in the evenings. A Brazilian BBQ is highly recommended if you ever visit.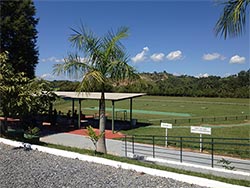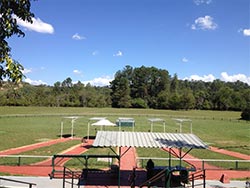 On the 13th we packed up and headed to Rio for the main event. British shooting had planned a few days' sightseeing so we could get it out of the way before August, however we had planned for more access to the shooting ranges and after 4 days I was getting an itchy trigger finger. Although Christ the Redeemer and Sugar Loaf Mountain were pretty spectacular places to visit; it's not often we get the chance to see any of the local area so this was a great opportunity.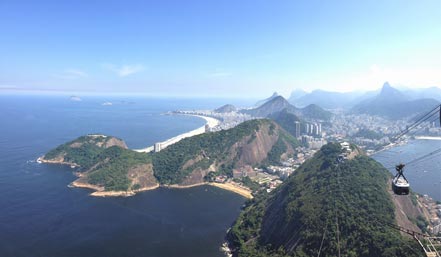 Copacabana Beach on the Left, Christ the Redeemer on the highest point to the right – No James Bond or Jaws on the cable car though!! (Parts of Moonraker filmed here) The Olympic Ranges were in good shape and had their own little quirks to overcome; the target release point seemed lower so presentation was different and the ground dropped away slightly in front of the trap house giving a lower appearance to the targets also. However the main facility was fantastic, a huge building housing the rifle and pistol ranges with a grandstand behind the shotgun ranges - the closest anyone can remember spectators being at a major event before! Part of the preparation before August will be to add music and crowd noise to training events simulating what might happen.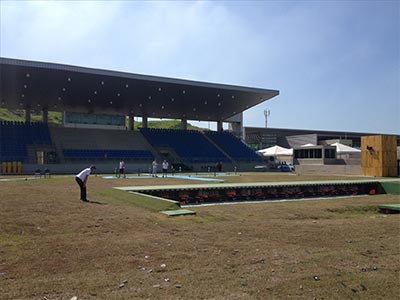 The event went well and I finished mid table following some technical errors which, after some contemplation, I was content with, knowing what had gone wrong and that I could easily fix it for the future. The process goals I had set were met and it feels like things are coming together in what is now the last 100 days until the Games. The next part of my preparation will be to review my current situation, seek feedback from all coaches and then plan out the next few months to ensure I cover all bases and I don't come home with that "if only I'd done X Y Z" feeling. A lengthy process which requires plenty of honesty as I'd only be kidding myself if I paint too comfortable a picture.
Dubai Hot Shots
RL360 hosted a day's shooting for the financial teams and also some media at the Jebel Ali Shooting range just outside Dubai on the 28th. Stuart Shilcock and his team, James and James, arrived looking pretty serious and ready for business: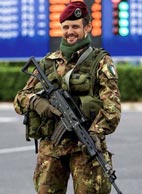 After calming them down and meeting the other guests we got underway with shooting some clay targets. There was some tuition first to help every skill level as some had never shot before and others were pretty good, followed by a competition. It is always surprising how people change once a competitive situation arises or they get put under stress - James Savastano rose to the occasion to take a win for the RL360 Team. I think it was a great team effort, however with Stuart applying just the right amount of encouragement/pressure/threats to get the best from James - nice work!! This was a great trip for me and always good to meet new people and introduce them to my sport whilst having fun and demonstrating that everyone can break a few clays, it just takes a bit of practice, instruction and to be up for the challenge.