Tim Kneale – RL360 Quantum Blog April 2016
Follow double-trap shooter Tim Kneale's blog as he talks competition, the run up to the Olympics and our RL360 Quantum sponsorship.
Planning and Review!
All the shooters in the Olympic Team have just undertaken an "insights" profile test to allow our team mates to better understand us and for the support staff to interact more effectively. Sounds very in-depth and thoughtful doesn't it? But it's just another piece in the wheel or tool to the box in the pursuit of that ideal performance when it matters the most.
It turns out I'm a planner, which is no surprise especially if you could see my note book. It is full of planning and review pages constantly refining my process with the aim of becoming more efficient and effective.
Since the British Olympic Team announcement last November I have been regularly assessing 4 key areas of my performance; technical, tactical, physical and mental. Tweaking my technical approach and thought process, while keeping fit and targeting specific international events. The most recent was the first ISSF World Cup in Cyprus a few weeks ago.
The Cyprus event was at a familiar venue where I had competed before and one I enjoy shooting at, the Cypriots are very passionate about shooting sports and have had a lot of success over the years. Over 40 of the world's best double trap shooters attended the event, with some countries yet to decide on Olympic Team positions, so a lot up for grabs. I got the feeling that people were a little cautious on the shooting ranges, possibly holding back early in the season, feeling tension for team places or like me, consolidating changes after the winter period.
The view inside part of the preparation area - it can be quite a claustrophobic atmosphere.
The event was a success as the changes I had made were tested and weak areas identified. As I mentioned I like to plan and know what's going on so my routine is precise and thought out and I can tell you straight away what happened when a target is missed - however the trick is to know beforehand. This is still a work in progress!
At the level I am at the balance of technical challenges to mental/thought driven challenges is at its greatest. A beginner has a very thought driven technical process (how to hold the gun, where to place it, where to look) whereas a more competent athlete (or expert) has a more automatic process in terms of the physical process but this frees up more thinking time. How a competitor deals with these thoughts is where the competition is won and lost.
Following my competition in Cyprus I was back in the Isle of Man to catch up with members of the support team and also attend the Isle of Man Sports Awards, I had been nominated for 2015 Sportsman of the Year. I have been nominated before and always feel proud to be classed within the top sporting athletes we have on the Island. After a bus trip to the National Sports Centre gym and then another bus trip to the Villa Marina I met RL360˚'s Isle of Man Communications Excecutive Angela Gregory and my parents and brother at the awards ceremony.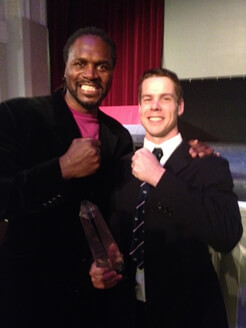 Tim Kneale Isle of Man Sportsman of the Year 2015 pictured with Olympic Boxing Gold Audley Harrison.
I'd put my money on the big fella!
I did think this was my best chance of winning the award as 2015 had been my best year to date -European and World Team titles, World Silver, a quota place for Team GB at Rio and then being confirmed in the Olympic Team. A great evening with Audley Harrison, Olympic boxing Gold medallist handing out the prizes and some great recognition for all my efforts over the years and also to shooting sports on the Isle of Man.
Next stop Rio Test Event!
Tim