Working abroad
Working abroad has its rewards. Be sure to make the most of them.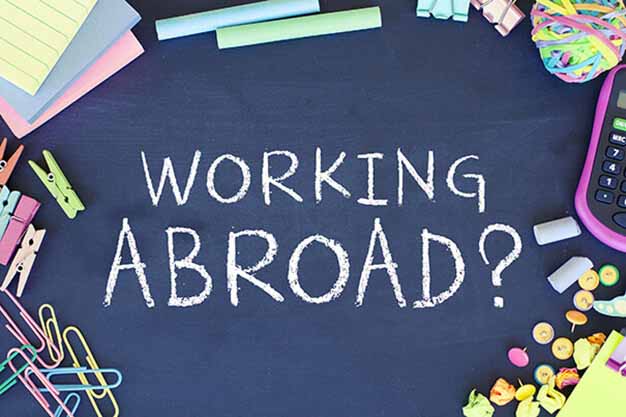 You might be surprised to know just how many people have, like you, taken the decision to work abroad. According to UN statistics, there are currently more than 200 million expats around the world. The highest number – over 3 million – come from the UK. But many other countries, such as Germany and Italy, are strongly represented; and 80% of the population of Dubai is made up of non-resident Indians (source for all figures: www.expatintelligence.com).
Finding a job overseas is great for your CV. It shows you're committed to your career, that you can adapt to new surroundings and that you have an international perspective on life. There are plenty of other attractions too, of course, such as the opportunity to travel and experience different lifestyles and cultures.
It's important, however, not to let all these positives distract you from some of the other factors that you need to take into account. Ensuring your family are happy is probably the most vital. Whilst you will be able to focus on your work, which will give you the opportunity to meet new people, how will your partner settle in? In Middle Eastern countries, for instance, cultural restrictions – and the heat – can make this difficult.
If you have children, then finding the right school for them is crucial. It's not unknown for expats to return home early because of problems with education, so time spent researching this will be very well spent.
Financial considerations are bound to have played a part in your decision to take an overseas posting. When you start working abroad, often the combination of an improved salary and a favourable tax regime may well mean that the amount of disposable income you find yourself with each month comes as a pleasant surprise.
Of course an agreeable overseas lifestyle can all too easily mean that this money somehow seems to end up getting spent! This is not ideal, given that one of your objectives in moving abroad was probably to accumulate some capital.
You may want to build up reserves to pay for your children's education, or to fund your retirement plan. Or you could be looking to put money aside for a child's wedding, to fund the holiday of lifetime, or to pay off a mortgage or other debts. Indeed, you might just like the idea of building up some savings for the proverbial rainy day.
A regular arrangement
An excellent way to achieve this goal is to save money on a regular basis. Putting away a proportion of your earnings each month is a relatively painless means of ensuring your saving goals are met, without compromising your standard of living.
Whatever your objectives, you'll want a plan that allows you to be flexible, and to react to changing circumstances or unexpected emergencies as they arise. It also needs to be portable, so you can easily transfer it if you get a job in another country at some point in the future. And without doubt you'll want to know you are dealing with a financially strong and reliable provider that has a good track record.
The Regular Savings Plan
At RL360 we specialise in providing financial products for expats; we have an in-depth understanding of what's involved in working abroad, and all our products are designed to meet your aims, in a way that's clear and easy to understand.
Regular savings plan lets you put aside as little as $280 each month, with the flexibility to withdraw money should you need to, or pay in additional lump sums. RL360's Regular Savings Plan can also be a useful part of your retirement planning, especially as there's no obligation to buy an annuity when the plan comes to an end.
We only offer our products through financial advisers; they have the knowledge and experience to help you get clear about exactly what your needs and goals are, and can then recommend a product that will deliver them. So start by having a chat with your financial adviser, ask them about RL360 and take an important step in ensuring your time working abroad is every bit as rewarding as it should be.