Overcoming Injury with Ollie Lockley
At the start of the year, RL360 sponsored athlete, Ollie Lockley, sustained an injury which put him temporarily out of commission. In this latest post, he walks us through some of the physical and mental work involved on the road back to full strength.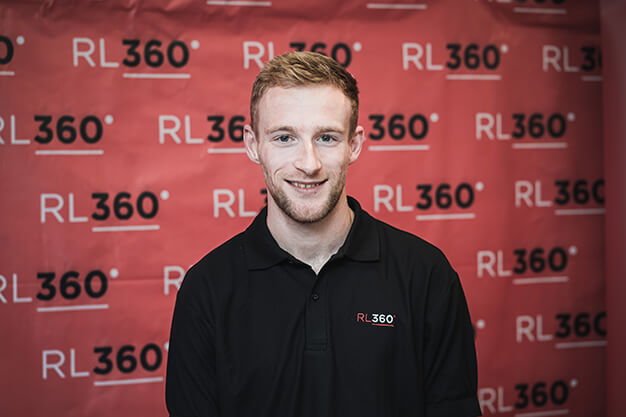 'Twas a week before Christmas and all was calm until BAM!
I was out doing my regular Sunday long run around the north of the Island, and while running my foot planted into a small pothole. I didn't think much of it at the time as it wasn't painful, so I finished off my 16-mile run with 4 miles left to go. However, 24 hours later I had a shorter run planned and it was during this that I found the pain came on straight away. Sometimes you can just "run off" the odd niggle, but this was sharp and it wasn't letting up. I had no choice but to stop and hobble back to my car, and it was at that point that I thought this could be more than just irritation.
Be Proactive
I immediately contacted my physio for an appointment to get a diagnosis and a clear path back to full health. Fortunately, I managed to get an MRI scan relatively swiftly which showed a stress fracture on my fourth metatarsal along with bone bruising and swelling. Obviously this was a bitter pill to swallow but in a strange way it was refreshing to have a diagnosis as I knew exactly what injury I was dealing with. If the scan didn't provide any clear indications, then I probably would have become more frustrated and confused as to how to progress further.
Following the scan and advice from the physio, the plan was to rest and do some specific core and strength work in the gym. I found that focusing on what I could control and do to improve myself in other areas (such as a good quality diet and rehab exercises) was essential for both my physical and mental wellbeing. Furthermore, it provided the perfect opportunity to see friends more often and engage in activities that I never normally would get much time to do whilst in the full swing of training. These factors helped to keep my mind off dwelling on the injury and I have found that the period of time away from training and practice sessions has been refreshing and a great opportunity to get away from completely self-identifying as a full-time athlete.
Be Patient
Being unable to engage in what I'm used to doing daily has been tough - especially when it feels like a loss of routine and purpose. However, rather than viewing the circumstances negatively, I have tried to look at the setback as positive and potentially a blessing in disguise. As endurance athletes (especially runners), we strive to keep pushing in the pursuit of fitness, results and simply trying to be a better athlete than yesterday. Sometimes this can be detrimental because if you are constantly on the carousel, you're going to run out of steam and the carousel will break down. It's only now that I'm injured that I have realised consistently hitting high mileage and home run workouts is not sustainable. It is so important to have down periods in training, even when you're feeling good.
Upon reflection, I feel that having time away from the sport has not actually been as terrible as I thought it could've been and, come crunch time, I hope this period off running has helped to fully reset my body and mind. Setbacks can re-ignite passion and give athletes a higher motivation to compete again. The key to coming back is to remember this but equally not to rush back into training. In the early stages of returning to activity, it is vital to set realistic targets, keep the volume and intensity low, and build up the running gradually. Therefore, rather than thinking of my form before the injury, or where I want to be in 5 months, I am setting short-term goals and keeping my focus on the present. This does require a good amount of patience so trying to adopt this is difficult, but it is essential in coming back from injury effectively.
Plan
Having recently spent time in a boot to help the fracture heal, I have not been able to do any exercise, but recently I have been given the green light to cross-train in the pool with scope to move onto elliptical training soon. This in itself is exciting as it now seems like I can get the ball rolling. However, it is important to have a plan, and not just (literally) dive right back into training. Therefore, I have devised a plan with both my coaches (running, and Strength and Conditioning) and physio with regards to progressing back sensibly and proactively.
As I mentioned previously, having short-term goals is extremely helpful as these keep me accountable and motivated to train. Setting pool sessions and doing specific exercises in the gym are not necessarily what I want to be doing, but were put in place for a reason, and I am looking at this as progression back towards running. One element of training that I can control is my mind-set and how I approach the day. I strongly believe that your mind is your greatest weapon, so if you can stay strong and resilient then this will go a long way.