A tough start to 2022 for RL360-sponsored Matt Bostock
After an unexpectedly difficult start to the 2022 cycling season, RL360-sponsored track cyclist, Matt Bostock, gives an update as to how he is preparing for this year's Commonwealth Games in Birmingham. There's no doubt a top finish at the event will boost his chances of achieving his goal of turning professional by the end of the season.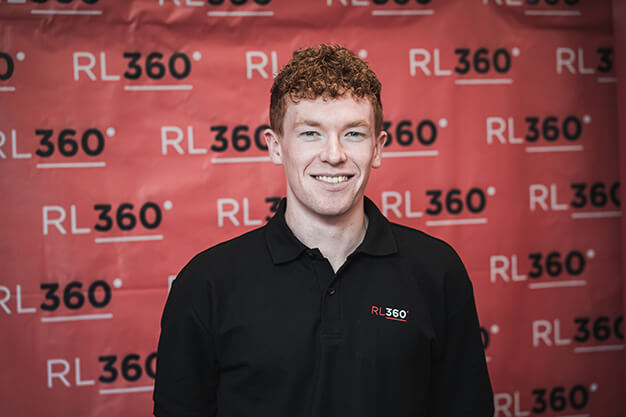 After a hard few months of winter training, I undoubtedly went into 2022 in the best shape of my career so far. In the run-up to my first event of the season, which was the Grand Prix in Valencia, I was smashing my all-time personal bests and building up my confidence for my second appearance at the Commonwealth Games.
Unfortunately, in the final 400m of the race, I crashed into a parked car whilst swerving around another accident that had happened in front of me. After completing the majority of the course, it felt like a shame if I gave up with only a short distance to go, so I got back up and finished the race. In hindsight, I let my determination cloud my pain – something did not feel right and I lost the ability to bend my leg. It turns out that the impact of the crash caused a large hematoma to my upper leg, meaning that my muscle was crushed, bruised and swollen to the point where it was physically impossible to move my leg. Not the best start to have and probably the worst injury I've ever sustained.
So for the past couple of weeks, I've been at home on the Island recovering.
Time off the bike and away from sport in general, to me, isn't always a bad thing but obviously I'd prefer it to happen on my terms rather than having no other option. During breaks, I find myself reflecting on my goals, how far I'm willing to go to achieve them and end up back on the road, feeling more motivated to compete.
The support I've received from Isle of Man Sports Aid, the Hyperbaric Chamber and RL360 has been amazing. My recovery has been a lot quicker than doctors and physios had thought possible – I hardly feel the injury anymore and it's almost a thing of the past.
Overall, it's been a speedy process but at the same time it's felt like I've been on the sidelines for a while.
With 148 days to go until the start of the Commonwealth Games, now is the time to build up my strength and form to how it was pre-injury. I'm more than certain I'll be back to my best and raring to go long before July.