TT's top 10 most memorable moments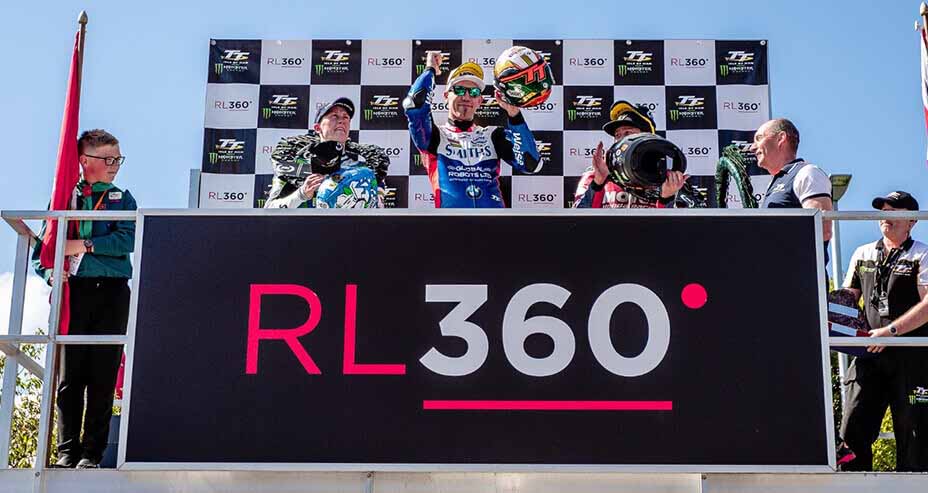 Thanks to Covid-19, there'll be a big gap in the history books where TT 2020 should have been. As a long-running TT sponsor, here at RL360 we were disappointed the event had to be cancelled but, equally, we understood it was absolutely for the best. Learn more about RL360'S TT racing pedigree here. So, instead of wallowing in what could've been, we've decided to celebrate some of the TT's most memorable moments to whet our appetite for what we hope will be an even bigger and better event in 2021.
Here are our picks for the top 10 most memorable moments in TT history: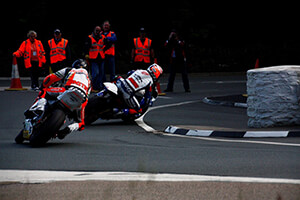 1) Foggy v Hislop in the 1992 Senior TT Race
Many consider this the greatest ever TT race. Motorcycling legends Steve Hislop, aboard the famous Norton 'White Charger', and Carl Fogarty, on his Yamaha, were never more than 6 seconds apart over 6 thrilling laps of the Mountain Course. Against the odds, Hislop bested Foggy on a bike that's become part of TT legend. It was exhilarating neck and neck racing that will continue to be talked about for decades to come.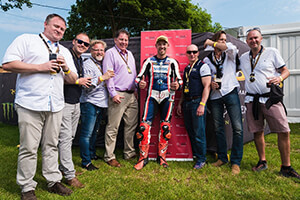 2) Peter Hickman's 135mph lap record
Perhaps the TT's star of the moment, Peter Hickman exceeded expectations in 2018 when he averaged 135.452mph on his way to winning that year's Senior TT Race. Despite clocking up such an unthinkable speed over the course of the race, in the end he only beat rival Dean Harrison by 2 seconds to take the winner's trophy. Since his TT debut in 2014, Hickman has always been a dominant presence, having taken fastest newcomer in that first year racing in the Isle of Man. He's a two-time winner of the RL360-sponsored Superstock race too.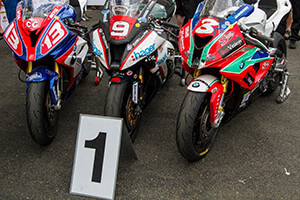 3) Joey Dunlop hat trick in his last ever TT
While no-one could've known TT 2000 was going to be the great Joey Dunlop's last, if a racing accident hadn't claimed his life in Estonia a month after the event, surely at 48 he was in the twilight of his career. Not that anyone had told the Ballymoney racer, who took a commanding 3 wins – in the Ultra Lightweight, Lightweight 250 and Formula 1 races - in one week. Joey became a 26-times TT winner and no-one has yet matched his outright total tally of wins, making him officially the greatest TT rider of all time.
4) McGuinness's 130mph lap
Talking of riders edging close to Dunlop's record, McGuinness's tally currently stands at 23. A legend of the event, McGuinness was at the peak of his powers in 2007 when, on his way to winning the Senior Race he smashed through the 130mph lap speed barrier. It was a fairy tale year for McGuinness, as well as spectators, who had flocked to the island that year to celebrate the 100th anniversary of the TT.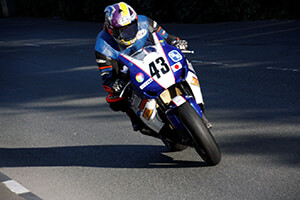 5) Mike Hailwood's comeback
In 1978 it had been 11 years since former TT superstar Mike Hailwood had last competed at the Isle of Man TT. And as all good sporting stories tell us, you should never underestimate a hero's return. Hailwood claiming the top step on the podium in the 1978 Formula 1 TT is the stuff Hollywood films are made of, just ask Eric Bana, who this year announced he is writing, and planning to co-direct and star in, a film about Mike 'The Bike' Hailwood.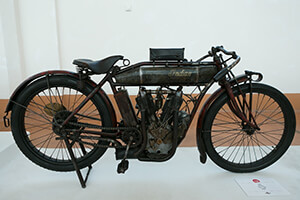 6) The first ever TT race, 1907
The inaugural TT event was run over 10 laps of the 15 mile long St John's Short Course, which would serve as the event's home until its move to the Mountain Course in 1911. At 10am on Tuesday 28 May, both the single and twin cylinder classes set off together in pairs. The single-cylinder race was won by Manxman Charles Collier riding a Matchless in 4 hours, 8 minutes and 8 seconds at an average race speed of 38.21mph. The twin-cylinder and overall race was won by Norton rider Rem Fowler.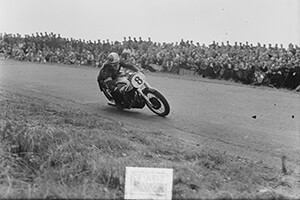 7) Geoff Duke's last TT win
The 1955 Senior TT saw Geoff Duke take his 6th and final race win on the Mountain Course on his famous Gilera motorcycle. Duke was also a 6 times world champion and is widely considered to have been the first international motorcycle racing superstar. This was put down to his good looks, his smooth riding style and, often, the fact that he was the first person to wear one piece leathers. A legendary figure in the world of motorsport, Duke died in the Isle of Man at the age of 92.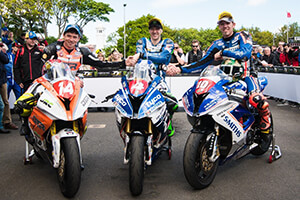 8) Ian Hutchinson's 5 TT wins in a week
TT 2010 was memorable for many reasons – the film TT Closer to the Edge was being filmed, Guy Martin was a huge star and he, as well as local hero Connor Cummins, suffered spectacular crashes in the Senior Race that year. Meanwhile, a Yorkshireman was quietly completing the Herculean task of winning 5 solo races at that year's event. It was a feat no-one had ever achieved before, nor have they since, and, as a result, Ian Hutchinson immediately secured his place in the TT history books.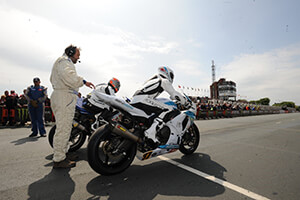 9) Milky Quayle's win in 2002
It was the year after Foot and Mouth had forced the cancellation of the TT (the last time this had happened until this year's Coronavirus pandemic) so the return of the TT was already a cause for celebration in the Isle of Man. The only thing that could've made it better was a home win, and Richard 'Milky' Quayle was happy to oblige, taking the Lightweight 400cc. Riding a Honda CBR400, Milky had an impressive win, which secured his place in the hearts of the Manx public. After the race he said: 'This is my dream, I've never wanted to do anything else in my life but win a TT, this is all I've ever dreamed of.'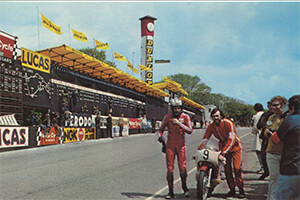 10) Agostini v Hailwood at the 1967 Diamond Jubilee Senior TT
There are many classic races to choose from this celebrated rivalry but for sheer drama, the Diamond Jubilee Senior is pretty high up on the list. UK hero Mike Hailwood was pitted against the young Italian Giacomo Agostini and the match up didn't disappoint. The pair exchanged the lead lap after lap and when Hailwood pitted in the middle of the race, it was clear his handlebar twist grip had come loose and he was seen frantically hammering at it. This left Agostini with a clear lead but drama struck once again when the Italian's chain broke on the Mountain forcing him to retire and leaving Hailwood with the win.